I started wearing jeans...after a long time it felt kind of right again...I have to say that I still prefer skirts over pants...For the last couple of years I considered myself as quite "bootylicious" (wish I could go back to my 18 years old very thin self), so skinny jeans were a no no unless paired with some kind of blouse that will balance the proportions...
But somehow I found myself without even one decent pair of straight leg jeans...only skinny or wide leg...this has to be taken care of :) So I'm on the search for a great pair of jeans (I actually hate shopping for jeans, it's not really fun for me, more like buying the necessities).
This jacket is actually cream (and not white as it appears on the photos) with thin black pinstripes and is very nice...and I have no idea why it was hanging new with tags attached in my closet for almost a year, I guess it just needed to be paired with jeans :)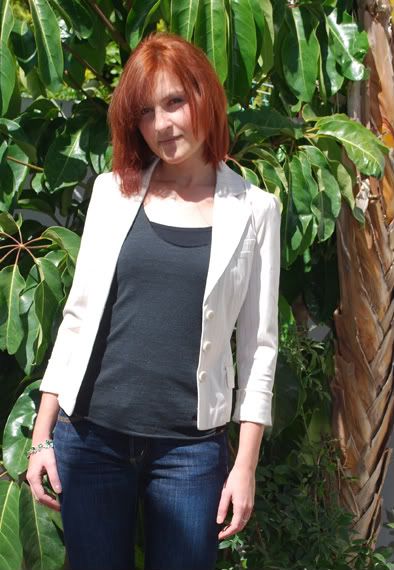 As you can see my hair is shorter, I cut it because I didn't like the previous haircut ...so it was the only way to fix it...funny how I don't really miss my long hair, I guess I wasn't that attached to it after all :)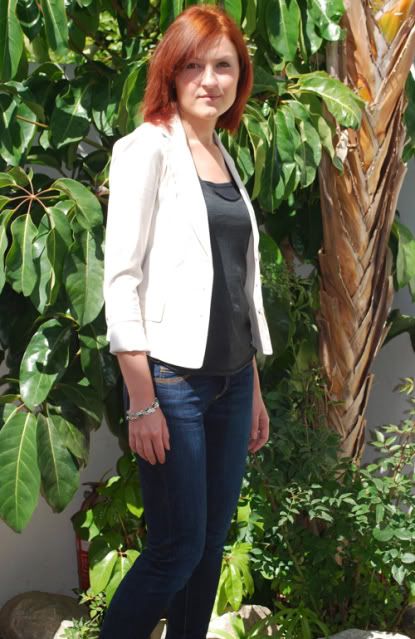 I have to admit I barely have time to update the blog because I only wear my work clothes during the week (which basically limits my choices to one label only) and I'm too lazy to dress up on Saturdays to take pictures especially for the blog...
Right now I'm really sucking at multi tasking, and there is so much stuff I have to do. First is to apply for Italian visa, which is quite complicated process with loads of documents and requirements. Second I have to learn Italian as soon as possible and third I completley abandoned my workout regime, which saddens me since I just started to see the results...Well, I hope I'll get my self together after the holidays...