Lately I had many things which prevented me from blogging: some of them good, some of them bad. But I have to admit that it's not the lack of time, but the lack of will and I hope this faze will eventually pass...
On a good side, Dar was visiting me here, we spent a great weekend, enjoying Milan as much as possible. Let's just say that there is still soooo much for me to learn about the city, and we couldn't find a better guide (and company in general) than my friend Keren. You can read Dar's
full review
here, but I just have to thank Keren and Dar for such a wonderful weekend, after a very rough week.
Men's fashion week went by unnoticed with the exeption of the "Punks wear Prada" party Keren took us to...mainly because of many tests and projects that I have...I was more occupied by Break Even Point (accounting), silk reeling (textiles) and psychographic profile (marketing). In general lately it's much less about the clothes (which I know well) and much more about the logistics and math (which I unfortunately don't know that well)...
The "Punks wear Prada" party which I've mentioned before had some very interesting and glamorous people and in general had the "fashion crowd" including flamboyant DJ and hosts. And while it was fun to be there for a couple of hours (and maybe revisit it once in a while) I realized that it's not really my "cup of tea". I would rather enjoy a drink in a pub with some closest friends.
One of the things that cheer me up in this gloomy and grey weather is this pink scarf. My grandfather (whom I didn't get to meet) gave it to my mother when she was a young girl. It has holes and my mom doesn't understand why I love it so much...Well, besides the immidiate "wow" effect it brings to any outfit, it is one of a few things that my mom took with her to Israel and has survived the 'big move"...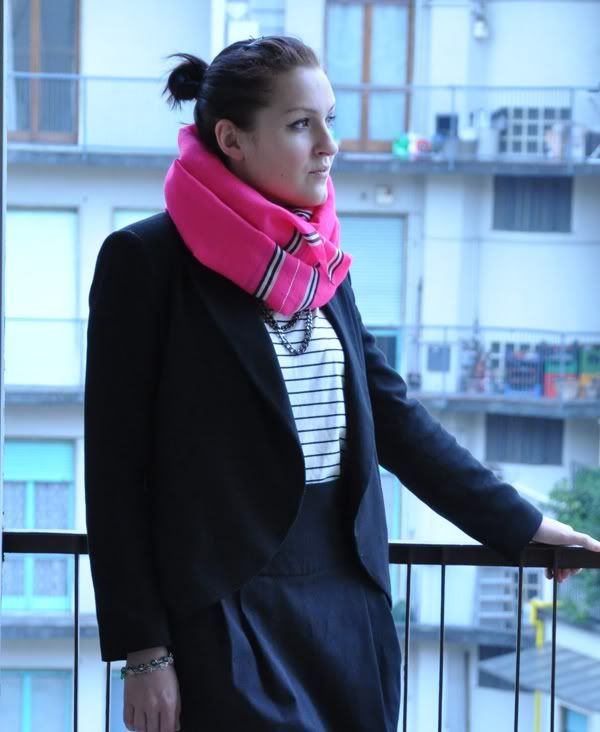 In this case, I paired it with black and white outfit, adding a pop of color, but the scarf works great with many color combinations, giving a special vibe to any outfit...
So while there is not much sun lateley, there are quite a few bright spots which I am very thankful for :)
Have a great weekend, kisses!!!