I have to admit I'm on some sort of shopping craze right now, although physically I didn't do much shopping, I put bids on some stuff on Ebay, and I did two shopping trips this month, so I should probably stop, but no...I have these shoes waiting for me at Mango..And a little package from theOutnet.com :)
Maybe it's a pre birthday craze, but my birthday is one month away...I guess I just will have to skip shopping next month...:)
This skirt was a bargain for 30 shekels (like 7$) and I just love the light and airy colors it has...I first thought to pair it with a simple white tank top and some strappy sandals, but when we took pictures, it was evening and the lighting was leaning towards pinks and warm colors, so I just went with it...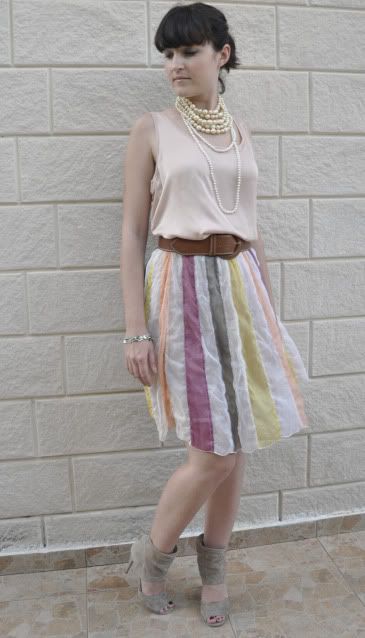 I'm actually still testing the skirt, and never wore it out (it's quite new) yet...I love how the different colors allow me to play with different tops and accessories...
The pearls are two different necklaces, first are fake pearls but they are one of the most precious jewels I own: they are my mother's wedding pearls...
The longer string are actual pearls , I received them from my mother for my 24th birthday...