During the recent months I didn't have a lot of opportunities to go on a real shopping spree, even though I lived in fashion capitals of the world. Sometimes things like bills and rent take their toll and being a student also had an effect on my shopping habits. One may say I've been on a shopping diet for the last year.
Fortunately, my closet didn't loose much weight as a result. Somehow clothes found their way to me. Still, I feel like I'm on some sort of "style detox" program where I really learn to filter the one minute trends and introduce classic items in my closet, even when they come from fast fashion stores. I also learn to enjoy and appreciate items that I own, as opposed to chase the next trendy piece. Nothing wrong with that in general, what matters is the proportions of this behavior.
So here are some new items that were introduced to my wardrobe during the last month. Some I bought, most were gifted (not for blogging pr purposes) by employers and friends.
Rick Owens booties I plan to take full advantage of this winter. The relatively low heel means they will be my "go to" pair and will be worn on a daily basis. Hope they can take it. I tend to ruin my shoes when I wear them often. Their price (off season) by the way is similar to some shoes you can find in Zara or Topshop.
Yigal Azrouel bag that will keep company to my beaten MaxMara and will go with many outfits.
It's huge, which is good (I know it's not trendy to carry oversized bags now but I need big bags!)
Vintage silk dress was a gift and will be perfect for summer or with my vinage Bill Blass camel coat ( I need to show it here soon!!!).
Reworked dress, made of vintage lace and Cardin top. Perfect for layering! I love the lace and the color combination. Also was a gift :)
Yigal Azrouel scarf. This baby is warm!!! Will be perfect with the earth tones that are so popular this winter. Besides, I can share it with my boyfriend :)
And while I might be on shopping diet, I'm indulging on coffee (I had 2 in a row this morning) and pastry. Pain au raisin is a favorite! Unfortunately I ate it before I had a chance to take pictures (the paper bag is soo empty) :)))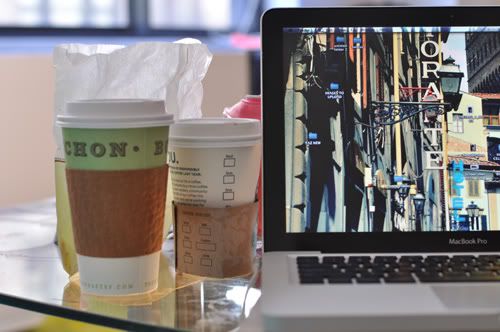 Have a great weekend!!!